17 Oct 2018
With the days shortening and the cold & rain setting in, this long Indian summer is presumably now finally behind us. For many of us, longer runs and extended reps are now the order of the day, which must mean one thing - X-Country season is upon us; namely the unparalleled Surrey League!
Gus Upton
•
Read more
10 Oct 2018
This week OpenTrack, alongside partners European Athletics and the W3C (Spain office) are in Gijon, co-hosting another successful and well-attended AthTech; the annual Athletics Technology conference.
Gus Upton
•
Read more
02 Oct 2018
We all compete in athletics for the love of the sport, or at least the majority of us do! This is also true of the thousands of volunteers that contribute event-on-event, year-on year. There are mulitple behind-the-scenes tasks that need to be completed for even the most simple of events. The most obvious of these include entries and results, but there are plenty more including seeding, team scores, field cards, etc.
Gus Upton
•
Read more
04 Dec 2017
Thames Hare and Hounds hosted the annual Varsity Match on Wimbledon Common. Nothing new in that, but this year we had splits from round the course relayed back to the club house. They and the finish line results were recorded using OpenTrack mobile phone technology.
Andy Weir
•
Read more
28 Nov 2017
We have now opened entries for two county cross country championships. We wish the athletes from Surrey and Buckinghamshire the very best of luck. They will be the first to use our refined entry process. Now, if you have previously entered using our system, the screens quickly allow you to check your details, including EA number, choose your event and pay.
Andy Weir
•
Read more
19 Oct 2017
Following the success of our inaugural data conference last year we were on the organising committee of Athtech 2017. Working with our friends from European Athletics, the W3C and the Algarve Athletics Federation we devised a 3 day agenda covering a variety of topics from data standards to results visualisation.
Andy Weir
•
Read more
19 Oct 2017
The surrey league is entering its 58th season and has grown into one of the largest and highest quality cross country leagues in the UK. The first fixtures of the 2017-2018 season were on two iconic courses: the beautiful and hilly Priory Park in Reigate and the home of cross country running at Wimbledon Common. Record turnouts in both men's and women's races meant the pressure was on to organise these prestigious events.
Andy Weir
•
Read more
19 Oct 2017
Straight after the Portuguese experience of Athtech in 25 deg C we flew to Vilnius for the European Athletics Congress. This biennial event is where the 51 federations meet to plan the next few years and discuss where the sport is going. We were assured the city is beautiful, but the 72 hours of continuous rain meant we didn't see too much of it.
Andy Weir
•
Read more
01 Sep 2017
This weekend sees the first ever Dynamic New Athletics matches hosted by European Athletics at Wimbledon Park.
Andy Robinson
•
Read more
03 Jul 2017
We've been asked to publicise a proposed rule change for county eligibility. The deadline for comments is July 20th. Please pass this on, and let Bedfordshire AAA know what you think by emailing enquiries@leightonbuzzardac.co.uk.
Andy Robinson
•
Read more
15 Jun 2017
Thames Parkland Relays saw 100 teams compete on a beautiful evening in Richmond Park. The course is a classic, each 2.8 mile leg going round Spankers Hill wood, past the ballot school, up the Queen's Ride and back home via Penn Ponds.
Andy Weir
•
Read more
22 May 2017
Just because we are gluttons for punishment, one week after the county champs we got involved in probably the most exciting event currently on the British Athletics Calendar. The Night of the 10,000m PB's is part athletics fest, including the UKA champs, part beer festival and 100% fun. 7,000 fans turned up including Seb Coe and Paula Radcliffe.
Andy Weir
•
Read more
17 May 2017
We worked with six counties this year in the lead up to their biggest events of the year. More than 3,000 athletes entered through our system; which showed itself up to the task. More importantly, hundreds of volunteer-hours were saved across the country.
Andy Weir
•
Read more
20 Feb 2017
We started our biggest collaboration with European Athletic to date. They need the results of the major athletics meetings in a desire to monitor and rank athletes. The problem of multiple file formats, from pdf to handwritten, creates errors and delays into the system. We have started work with them to improve the whole process. The project was approved after Andy Robinson presented to the EA board at the European Indoors in Belgrade.
Andy Weir
•
Read more
10 Dec 2016
As part of our ongoing relationship with European Athletics we went out to help with the European Cross Country Championships in Chia, Sardinia. A fantastic weekend with many British medals was matched by the success of our timing system.
Andy Weir
•
Read more
07 Nov 2016
As part of the work we have been doing for the Surrey League, we have come up with a couple of useful prototype apps so that finish times and positions can be recorded quickly using commonly owned handheld devices. Compared to the traditional method of pen and paper, the advantage is the data entered in this manner it can be analysed instantly without the need for retyping. (A user manual is here, and for the real geeks, the spreadsheet with the data is here).
Andy Weir
•
Read more
02 Nov 2016
Thanks to everyone who came around to our office tonight! We hope to make this regular.
Andy Robinson
•
Read more
03 Aug 2016
We're starting to do stricter checks for competition entries. This post summarises our suggested approach and some of the issues we expect to run into. I suspect many other people are doing the same and welcome discussion on our forum
Andy Robinson
•
Read more
20 Jul 2016
The final results of the FINODEX accelerator process are in. Out of almost 300 applicants, and 50 businesses funded, we finished in third place!
Andy Robinson
•
Read more
01 Jul 2016
FIWARE's Orion Context Broker has grown to be a key part of our architecture. Since we're trying to encourage open source developers to collaborate with OpenTrack, I'm going to try and explain what it is, why we chose it, and what it can do.
Andy Robinson
•
Read more
12 Jun 2016
OpenTrack is just back from a busy trip to the Netherlands
Andy Robinson
•
Read more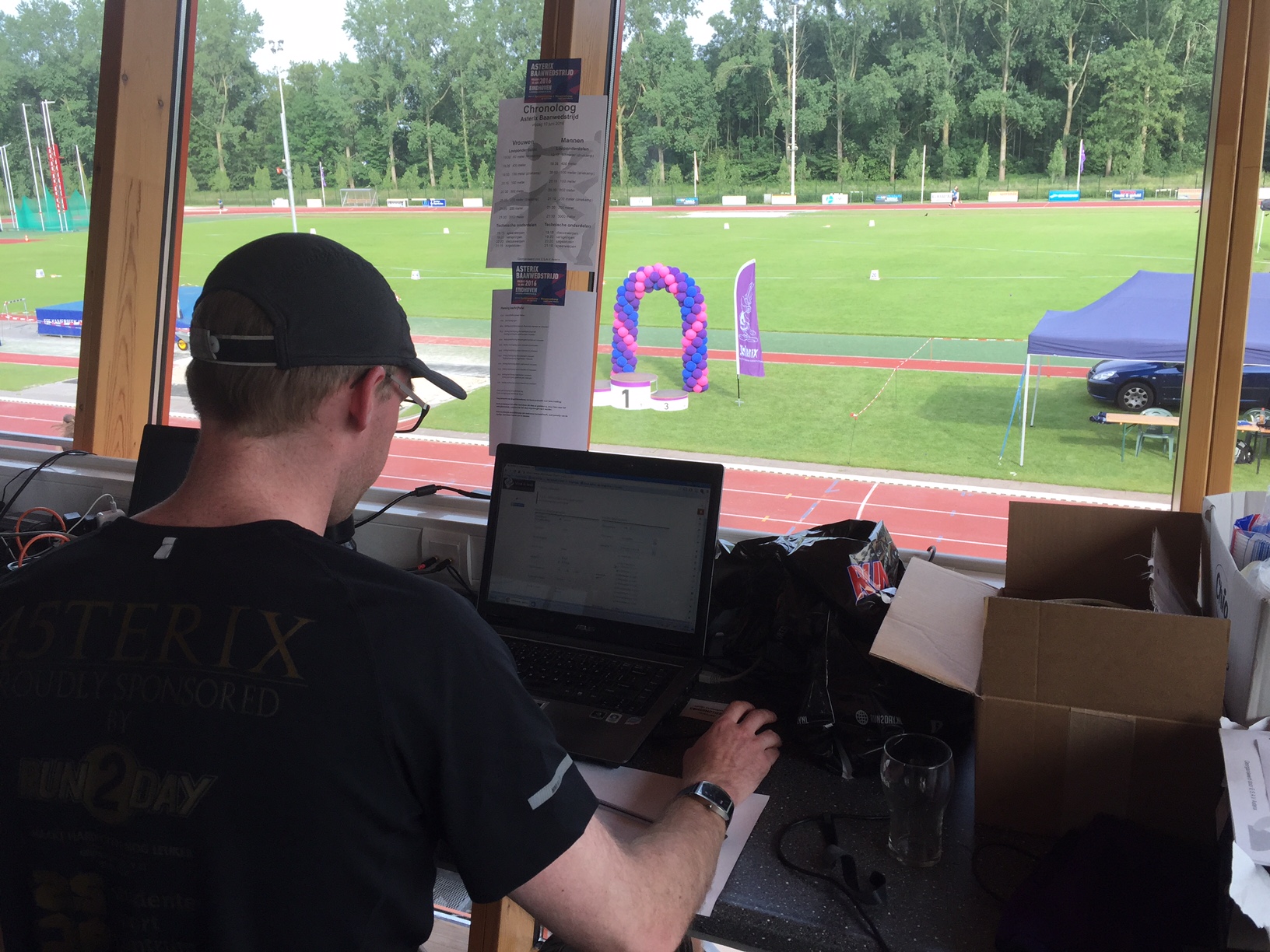 11 Apr 2016
08 Apr 2016
A big thanks to Chris Dack for our first major open-source contribution. Click here, or the picture below, to check out how he presents the Shot Put results from last year's UK finals!
Andy Robinson
•
Read more
05 Apr 2016
As the nights draw shorter and the days warmer, the winter athletics season is certainly coming to a close; the tartan track beckons!
Gus Upton
•
Read more
17 Mar 2016
Since the team is so busy right now, we thought an interview would be a quick way to explain what the project is about. Gus Upton (Belgrave Harriers) interviews Andy Robinson, OpenTrack's founder
Gus Upton
•
Read more
03 Mar 2016
OpenTrack just got back from a 2-day conference in Pamplona, Navarra, in northern Spain. We're getting outstanding support from Finodex, our accelerator. 30 businesses attended talks and workshops on Open Data, business presentation skills, communications and a host of technical topics. We also had one-to-one meetings on data, technology and business planning, as well as with potential local customers. Not to mention a lot of pintxos.
Andy Robinson
•
Read more
29 Feb 2016
Want to give Opentrack a go?
Get in touch, or register for public access (coming soon)